The Incredible Rubber Chicken Egg!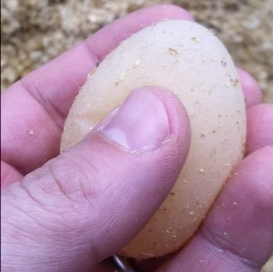 Here's a video of an egg from one of my chickens a while back. I've gotten a few of these. My guess is that it has something to do with not getting enough calcium, though I do give them oyster shell chips as a supplement.
Rubbery egg! from Erik P. Kraft on Vimeo.
I came across this article the other day, that reminded me I had taken this video. Turns out it could be the work of The Devil! I suppose I should have called this post The Incredible Cock Egg! to be more in line with the folklore behind this.
Tags: backyard chickens, chicken nutrition, chickens, compost, egg weirdness, eggs, Erik P. Kraft, Garden Guys, hipster farming, rubber egg, rubber eggs