The adventure continues . . .
So, it looks like there are still problems at Garden Guys headquarters. I'm told what we're looking at is a motherboard problem. I'm not actually looking at it, but I can picture what that looks like.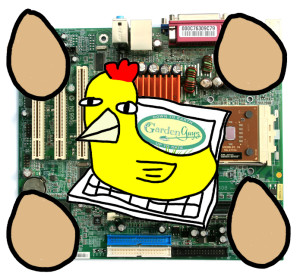 We'll try again next week. Should it fail, I'll have some chicken news on deck for you. And not a picture if a chicken on a deck, unless that's your thing. Everybody's got a thing, man.
Tags: backyard chickens, chickens, Erik P. Kraft, Garden Guys, Technical Difficulties