Too Many Chickens!, January 18, 2013
I have a tendency to not call things by their proper names. Or at least things that have proper names, such as pets and humans. I have been told that this is one way in which I am a weirdo, but I disagree. Sometimes you don't know what something's real name should be until you have known it for a little while. Hence my cat Hamish is referred to as "The Bone," my wife is "The Dorf," and my son is "Babydude" (at least until he gets old enough to really put up a fight about it). You give a name because you have to, but sometimes the "real" name emerges later.
So, you can see that I take naming things very seriously. By the time I have come up with a nickname for something it is safe to say I am pretty attached to whatever is being named. When I first got the chickens, I had decided that maybe I should not name them, precisely because of this attachment issue. From the beginning of this project, I have been haunted by the spectre of imaginary chicken death. It didn't help that shortly after getting the chickens I read an article by someone who was dead set against the idea of chickens as pets, and railed about people being upset when a chicken dies, because chickens drop dead all the time for no reason. This article put me in a very weird place in terms of chicken emotions, and I was determined to not get too attached, in the event that no reason came along and dropped one of my chickens dead.
The thing about chickens though, is that they are very easy to get attached to. It starts with just liking them. Coming home picking up these tiny little creatures that scurry around in the brooder was one of the most peaceful parts of my day. I could come home from a bad commute and feel much better after a couple of minutes of chicken time. That's how they get you. How could I not begin to grow fond of things that make me happy?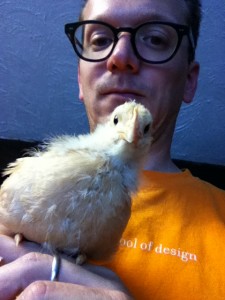 Then they had to go and have funny little personalities. We initially had kept them in a cardboard box for a brooder. Not very long into it, I went in to check on them in the morning, and one of the Barred Rocks was sitting on the edge of the box, looking at me. I did what anyone might do in this situation, and yelled, "Hey, chicken!" The chicken held her ground. I put her back in, and put a piece of cardboard over the side she had gotten up on. That night I came home, and she had gotten up on another side. I then moved them into a space surrounded by a baby gate, which was much taller. She got out again. One night, when my wife got home, she asked if all the chickens had been there when I got in. I asked why, and she said, "Because when we left this morning one of them had gotten out, AND I THINK YOU KNOW WHICH ONE IT WAS." We were only a couple of weeks into this, and we were beginning to be able to tell them apart.
I finally covered the brooder with a screen, and this kept them in. But this little one was not going to go unnoticed. With her escape plans foiled, she took to chasing the other chicks around. If I put in treats, she would rush over and push her way in first. If the other chicks were in a group, she would rush over and fight her way to the center. She would also chase them all around and just make a general nuisance of herself. And slowly something started to build, until one day in my head I referred to her as Boss Chicken.  Then it was too late. What has been thought cannot be unthought. Her name was now Boss Chicken. "Well, I just won't name the other ones," I said. And then one of the other Barred Rocks would go and flip out any time I came near the brooder, or picked her up, or basically existed. "That one freaks out so much, she's just like Henny Penny," I thought. And now two had names.
At this point it was inevitable that the third Barred Rock was going to get a name, but I really fought it. She wasn't doing anything much to stand out, so that seemed like it would help keep her nameless. Until something went wrong in my head and I decided she seemed like a Suzy Creamcheese. So now half the chickens had names.
Naming the Barred Rocks was a little easy, since the three of them had variations in color. Boss Chicken is the darkest, and even her light spots are fairly dark. Suzy Creamcheese is the lightest. Where some Barred Rocks seem like black chickens with white spots, Suzy Creamcheese seems like a white chicken with black spots. Henny Penny is right in the middle. She seems to have a fine balance of light and dark. At least when compared to the other two.
The Buff Orpingtons have no such variations. They're a one-color breed, so there are no spots to be different. And that color seemed really consistent across all three of them. So on the one hand, that seemed like a great way to not have to name them. On the other hand, I was feeling really bad that the more visually exciting chickens had names, and the plainer ones did not. I'm color blind, so I may be missing subtle variations in color, but I may also be some sort of chicken racist by not being able to tell them apart. This idea was too much, and since there were three of them, I decided to give them a name that was applied to a famous threesome of the past, and so we now had chickens that are collectively referred to as The Mandrell Sisters.
So yes, I am now attached to them. As of this writing, they have not dropped dead for any reason, much less no reason, so I've got that going for me. One day when we were pulling out of the driveway and the chickens were looking at us, I asked The Dorf, "Is it weird that I love my chickens?"
"A little," she said. But I am o.k. with that.
Tags: backyard chickens, chickens, Erik P. Kraft, Garden Guys